Cincinnati Strong Man Mural 2014
So excited to wake up, and see a bunch of texts and social media posts of the Cincinnati Strongman Mural had made the cover of not only Cincinnati.com, but the Cincinnati Enquirer, "So Strong, He Lifted the Reds, All of them" Thank you so much - thanks to Henry's family, all the kids that help bring this to life at Artworks this summer, Cori Wolff, Colleen Houston, and everyone at ArtWorks - the Cincinnati Enquirer, John Faherty and Carrie Cochran, Cincinnati.com - Photos by Carrie Cochran and FD Harper, Story by @John Faherty. Some walls, most even, are nothing more than architectural necessities, holding up beams and joists. Some walls are different. Some walls have magic in them. One month ago, the wall holding up the north side of a building in Over-the-Rhine was just brick and mortar. Now it is art and story. The transformation began when Jason Snell, an artist with a thick beard and a curious mind, reached back through Cincinnati history and found Henry Holtgrewe, a man with a heavy mustache and a barrel chest. Holtgrewe may have been the strongest man on earth. He was so strong that on Aug. 29, 1896, a Saturday, he picked up the Cincinnati Reds. It was all 20 players, plus the groundskeeper, a stack of heavy barbells and the team mascot, a monkey named Jocko. The weights, ballplayers, groundskeeper and Jocko totaled 4,500 pounds. They all got on an elevated platform, and Holtgrewe stood underneath it, steadied himself and lifted them off the ground. It is a story only slightly more impressive than how a mural got made on the wall at 1215 Vine St. The mural was the result of persistence, serendipity, an art program and a mysterious young woman who walked past Jason Snell's office one night and said: "Why does somebody have a photo of my great-great grandfather?" A man from another time perfectly relevant today Over the past 18 years, ArtWorks has worked to turn the city into a piece of art. The organization pays artists and apprentices and since 1996 is responsible for 75 murals in 36 Cincinnati neighborhoods and seven nearby cities. Tamara Harkavy founded ArtWorks in 1996 and says murals do more than just make a wall prettier. A mural can create connections. A mural can show a city's past and its future. Particularly this mural because when Snell looked through time and found Holtgrewe, who lived more than 100 years ago, he found a man who would have been comfortable in Over-the-Rhine today. "The essence of the 1870s, '80s, '90s is completely relevant today," Harkavy said. "Holtgrewe had that pride of place, he was an entrepreneur, he completely was what we are now. He was a maker." Harkavy loves all of her projects, but this one might be particularly special to her. "There is so much magic and serendipity in this project." Snell is a graphic designer and a good one. He also does branding and music and animation, all of which made him attractive to companies in New York, San Francisco, Seattle and Austin, Texas. Six years ago, he was getting serious about moving when he met a girl, a local girl. She was smart and talented, and she liked him back. Suddenly he was staying, which led him to opening a storefront for his design business on Vine Street in Over-the-Rhine. He thought he should learn more about the neighborhood. "I wanted to know everything, every story, all the history," Snell said. "You realize how beautiful the place where you live really is. These stories keep unfolding and unfolding." An immigrant to Cincinnati, and maybe the strongest man One of the names he came across early was Henry Holtgrewe. Holtgrewe was born in 1862 in Hanover, Germany, and came to Cincinnati when he was 22 years old and moved in with a cousin in the West End. He started working in saloons just as soon as he arrived, moving from one to the next until he had his own place on Vine Street. Holtgrewe became known immediately for his ability to pick up heavy things. And this was at a time when people really cared about things like that. He was in the newspaper, including this one, repeatedly, referred to as the Cincinnati Strong Man, the West End Hercules and eventually as the World's Strongest Man. He was also in the paper in 1915 for selling beer on a Sunday and got a $25 fine. That was a no-no. At the time, big men would challenge each other to feats of strength. There would be money at stake and usually – all right, always – some wagering. Holtgrewe was built for this. He was 5 foot 8 inches tall and weighed 270 pounds. His bicep was 19 inches around. In 1903, The Cincinnati Enquirer reported that, over the years, Holtgrewe had once "lifted a barrel of water with one finger with a man seated on it." He also once put on a show by putting a "3,000-pound dumb bell on his shoulders and walking across the stage with three men hanging to it." But the big one, the one he was known for, was the lifting of the Reds and Jocko. Apparently even at a time when watching burly men lifting really heavy stuff was a big deal, this was a Reds town. Spaeth wrote back within 15 minutes and said: "Did you know that Henry Holtgrewe is my great-grandfather?" Then she asked how much she could give. And this, Harkavy said, is the exact promise of a mural. It can bring people together, it can bridge generations, it can find connections that nobody knew existed. A vaudeville graphic novel for the Cincinnati Strong Man The money found, the art began. Snell's vision is not a typical mural. He calls it a "vaudeville graphic novel." And it kind of is. The mural tells the story of the Cincinnati Strong Man on more than 2,000 square feet of brick. The scaffolding went up, and the painting began with the help of nine youth apprentices. Taylor Helms,16, sat one morning on the scaffolding, painting and thinking about the past and the present and the future. And Henry Holtgrewe. "You wish he could see it," Helms said. "It's weird, but maybe we are keeping him alive by doing this. I hope so. Wouldn't that be great." To Helms' right, Kimmia Crossty, 20, found hope as she brushed. "I think maybe it can inspire people," Crossty said. "Maybe they can be a wall if they do great things." Earlier this month, Spaeth pulled into the parking lot next to the mural and could not believe her eyes. "It was so exciting, it was very emotional," Spaeth said, beaming. "I thought I was going to cry. It's so big." She thanked Snell and hugged him and showed him some of the medals her great-grandfather had earned as a strong man. She told him about Holtgrewe's children: Frederick, Hilda, Hellen and Marie. She said there were many grandchildren and great-grandchildren and great-great-grandchildren. Spaeth talked about people who were related to each other, and the things they did and the people they knew. She said that she had worked very closely with Harkavy's father. The connections kept coming and Snell fell silent listening to every word. Then Spaeth went up the scaffolding and saw the images and the words and the stories she heard kept rushing back. Henry Holtgrewe was, she said, described by all as a sweet, sweet man. She stopped and thanked each of the painters working with their paint brushes and walked up the steps to come face to face with the man she had never known. She gave him a small kiss and thanked everybody once again. "All these connections, the way this whole thing happened, it's amazing," Spaeth said. "It's like some magic happened. It's so Cincinnati." ■
There are a few projects that come along that touch upon not just design, illustration and problem solving - but those that involve, history, community, storytelling and neighborhood pride and education. The Cincinnati Strong Man Mural at 1215 Vine Street, Over-the-Rhine, Cincinnati is just that project. Thanks so much to Artworks, Colleen, Cori and Tamara for beleiving in the Henry, the family, the project and the neighborhood - together with the family, the Artworks staff and the kids braving the weather and the scaffolding all summer long - The Cincinnati Strongman is alive and well!
Event photos by Andrew Higley / We Have Become Vikings
Process photos by Carrie Cochran
Words and Cincinnati Enquirer Story by John Faherty
-------------------------------------
Thank you so much - thanks to Henry's family, all the kids that help bring this to life at Artworks this summer, Cori Wolff, Colleen Houston, and everyone at ArtWorks - the Cincinnati Enquirer, John Faherty and Carrie Cochran.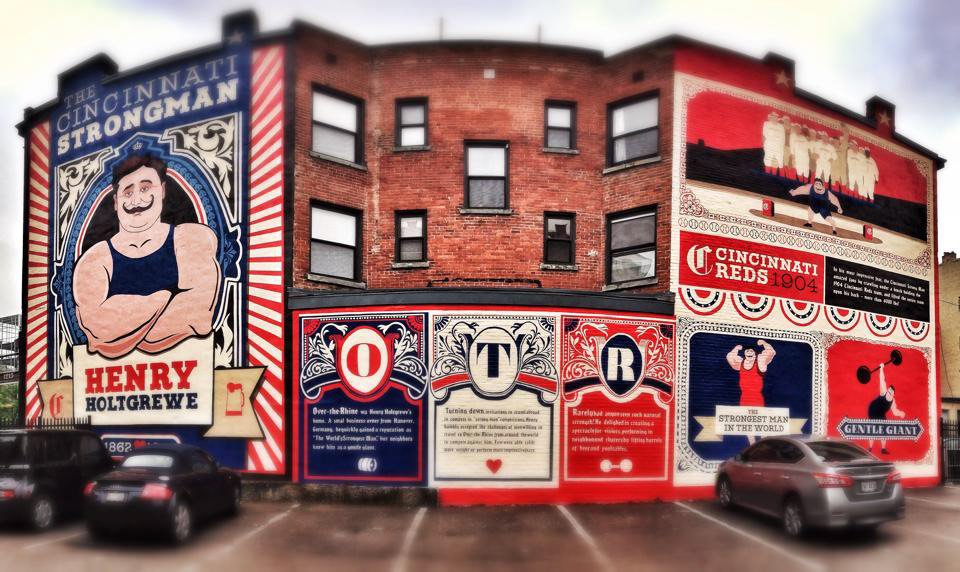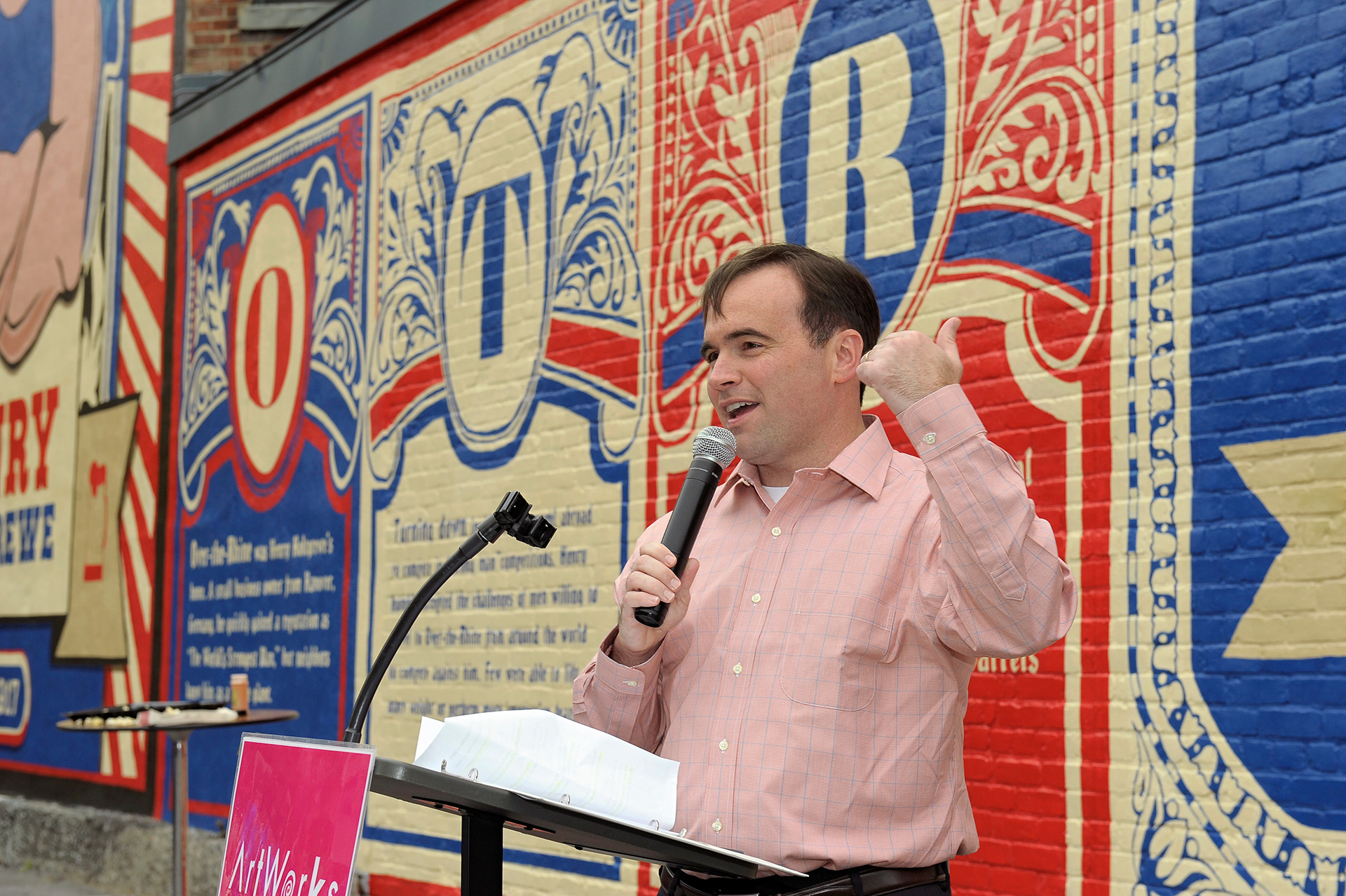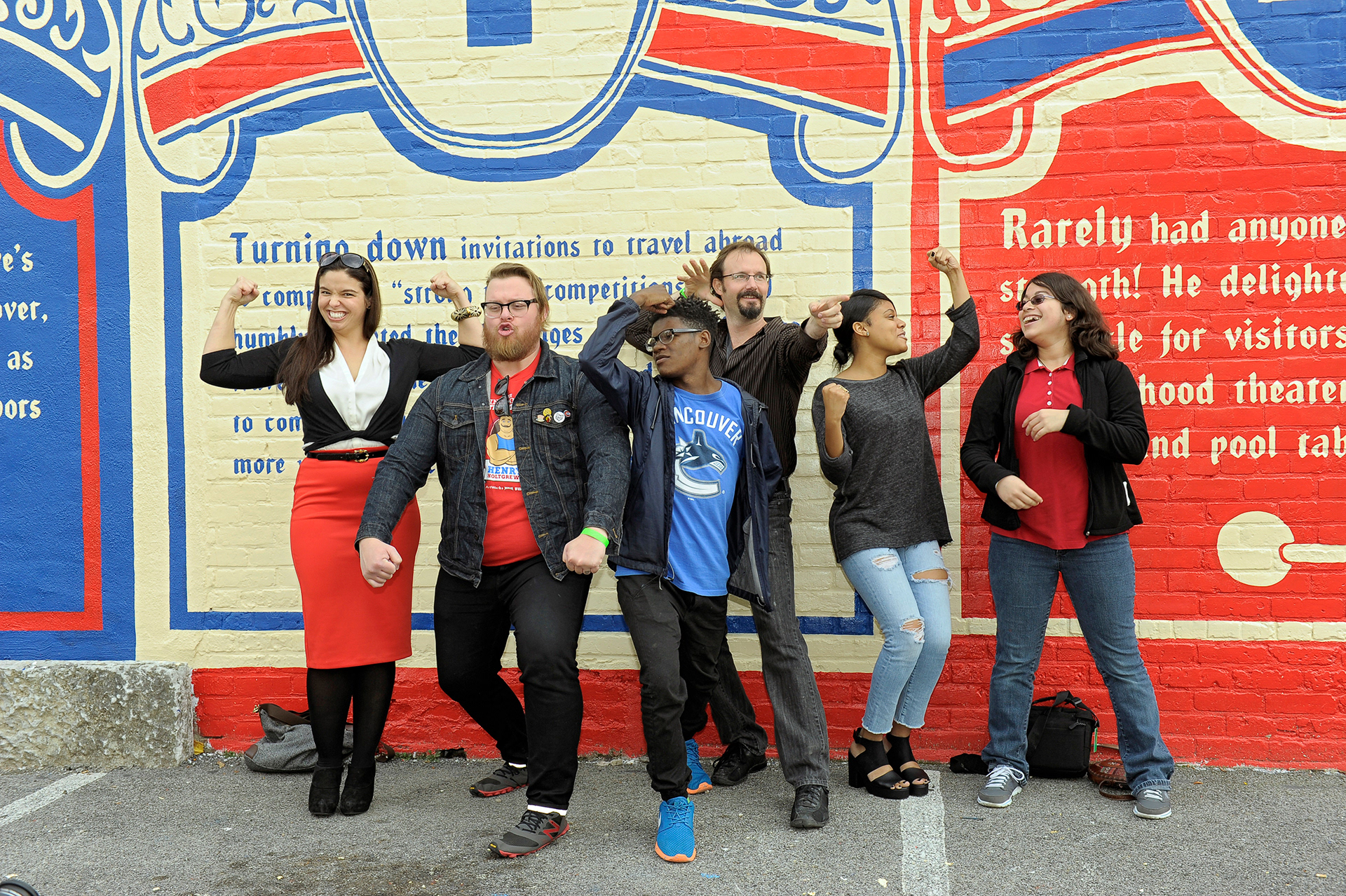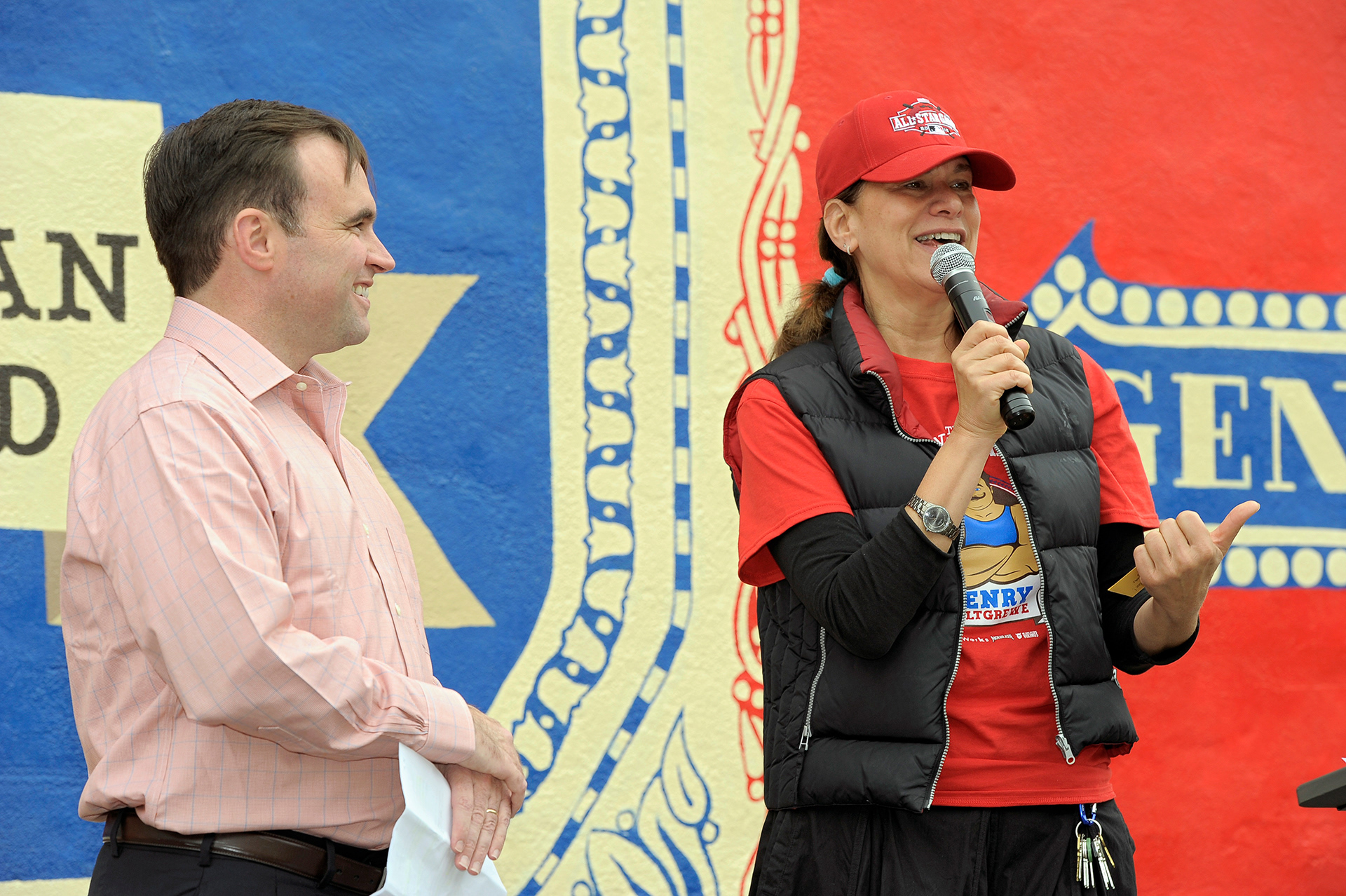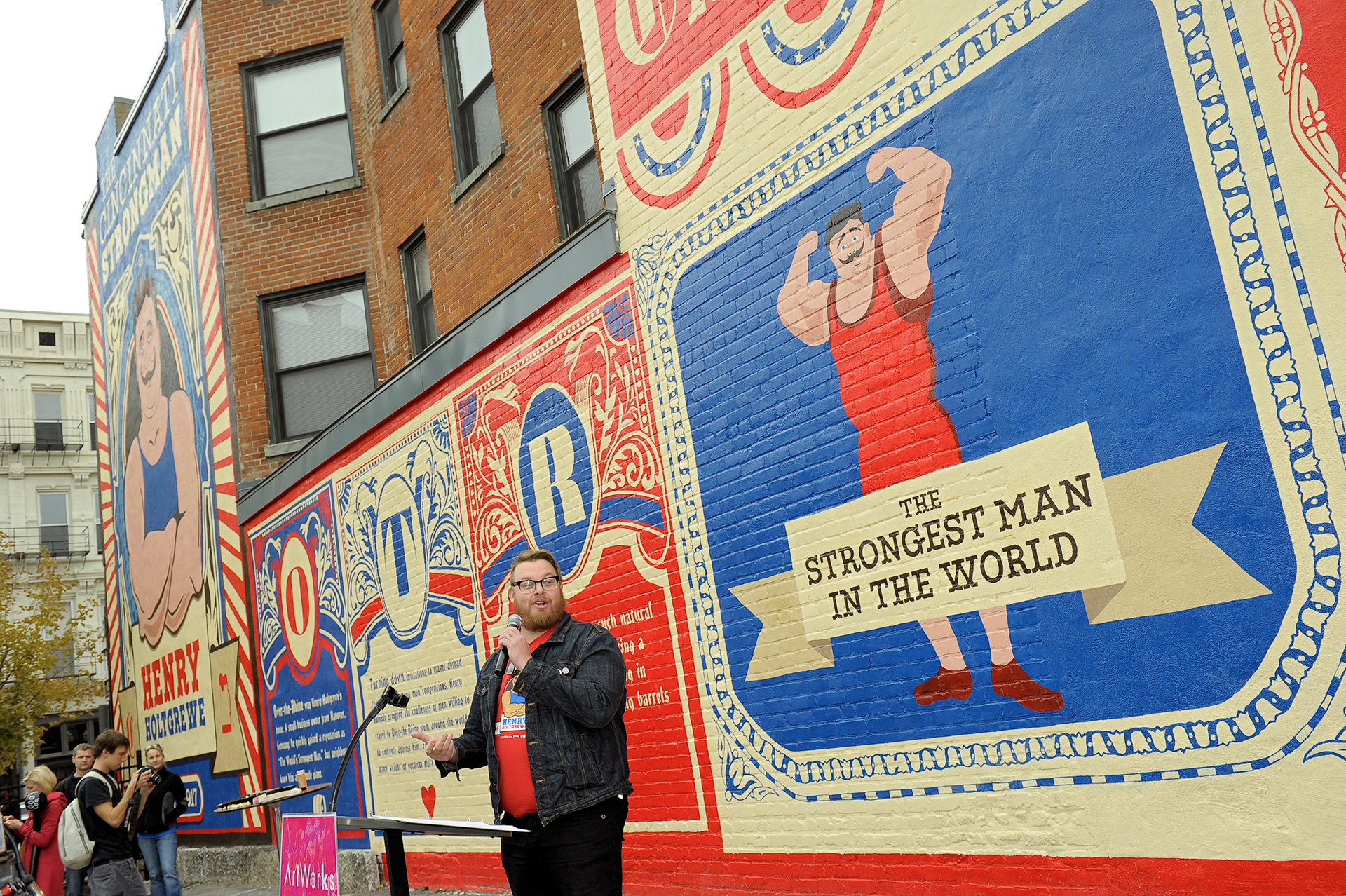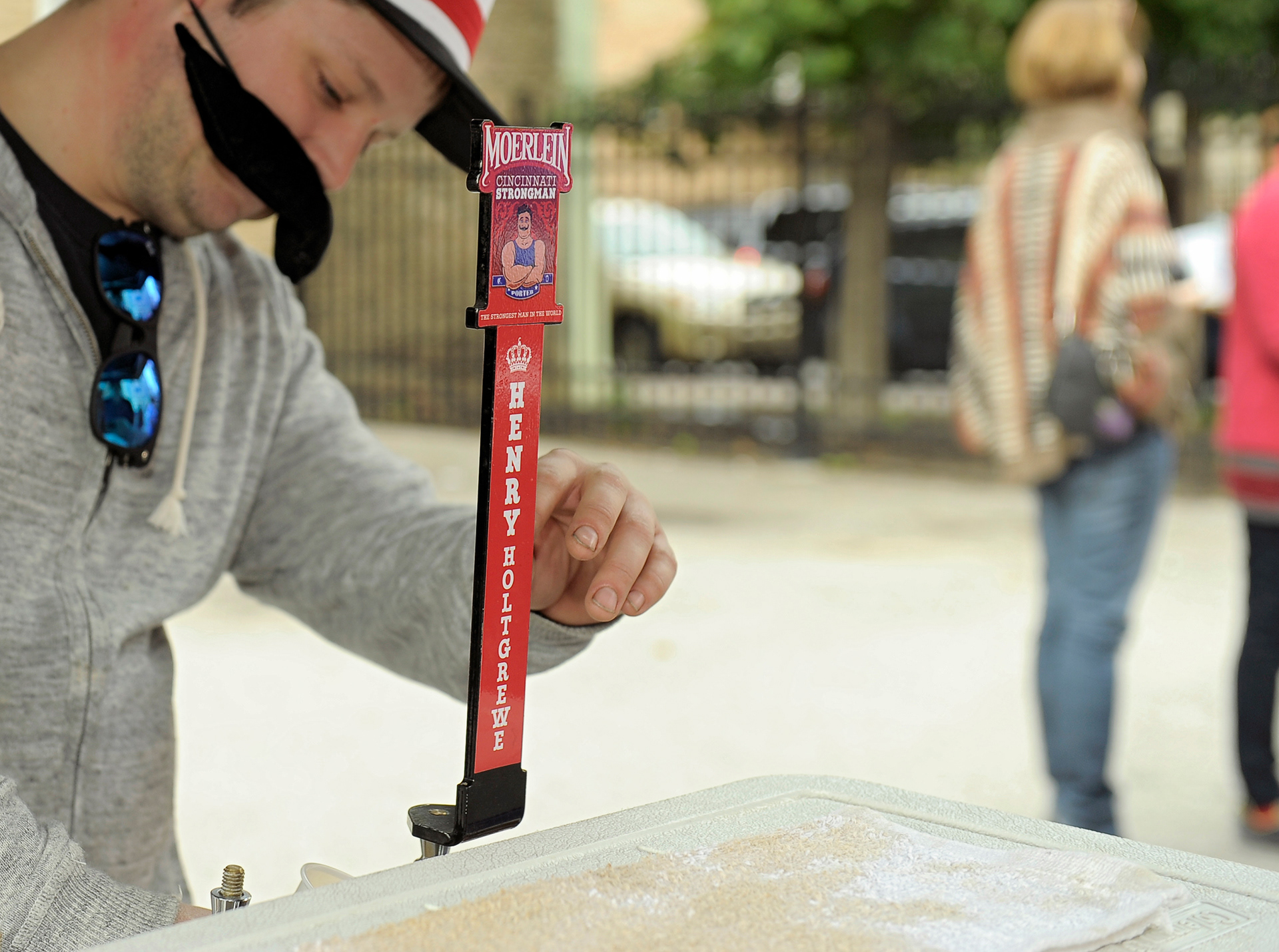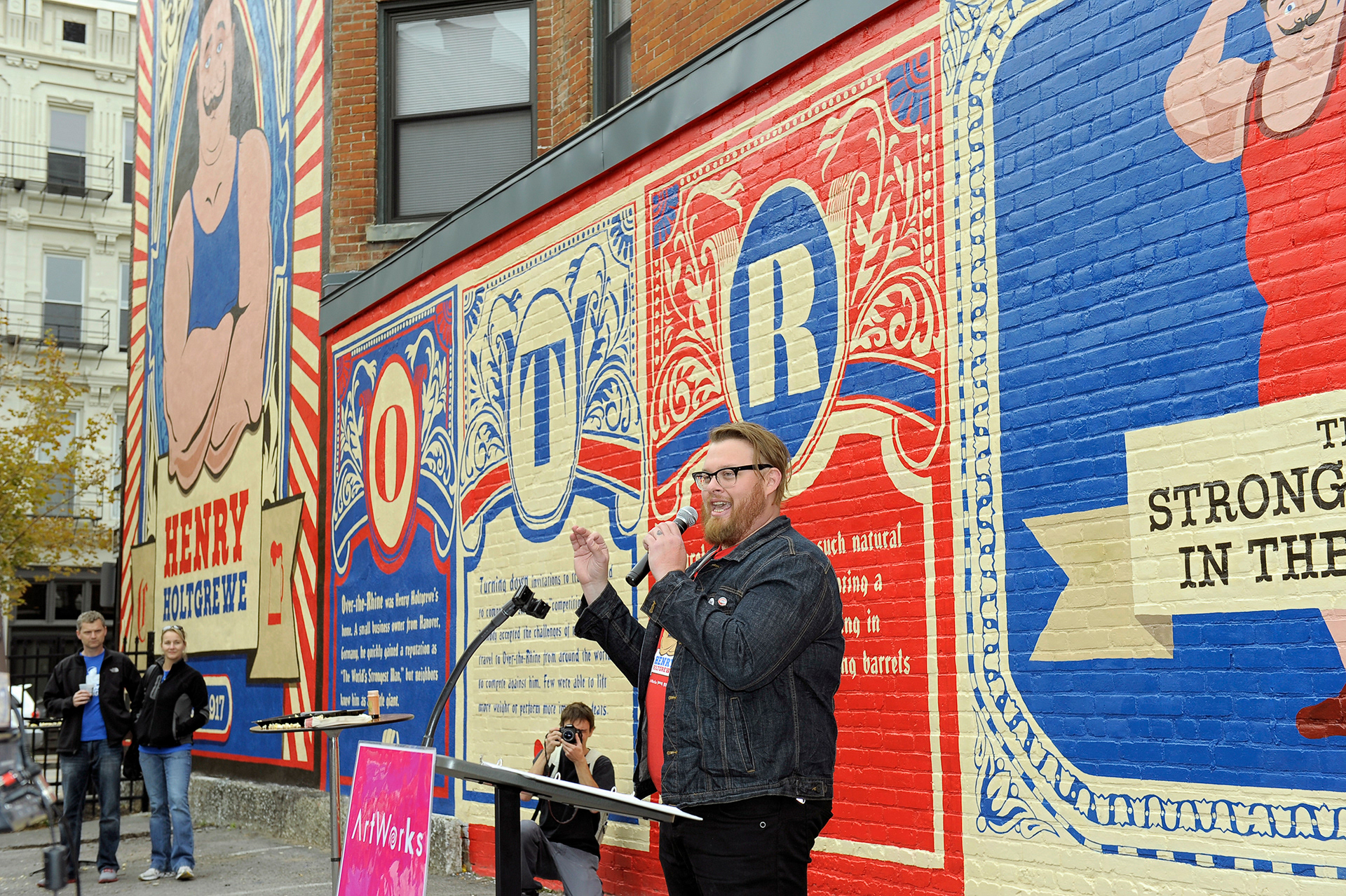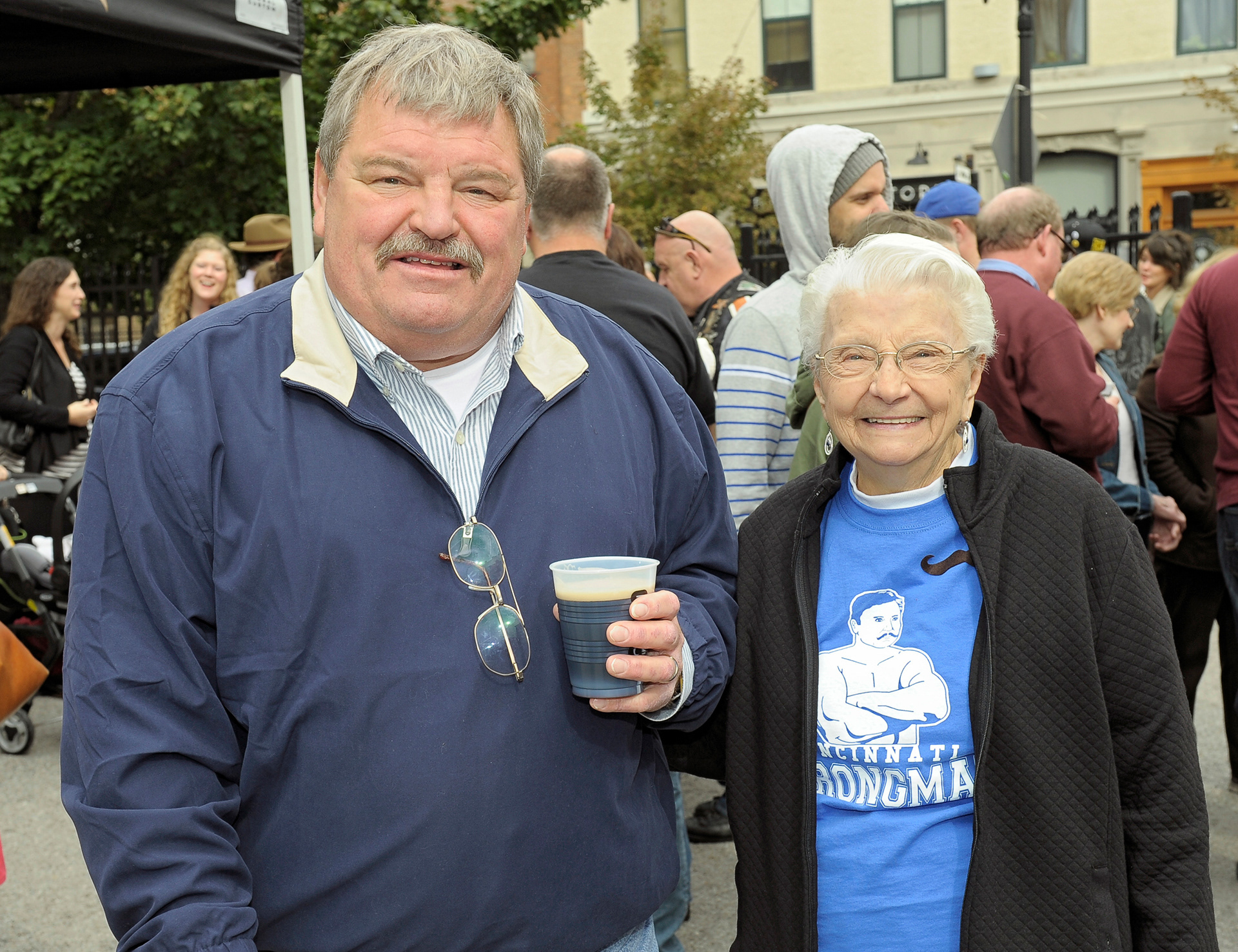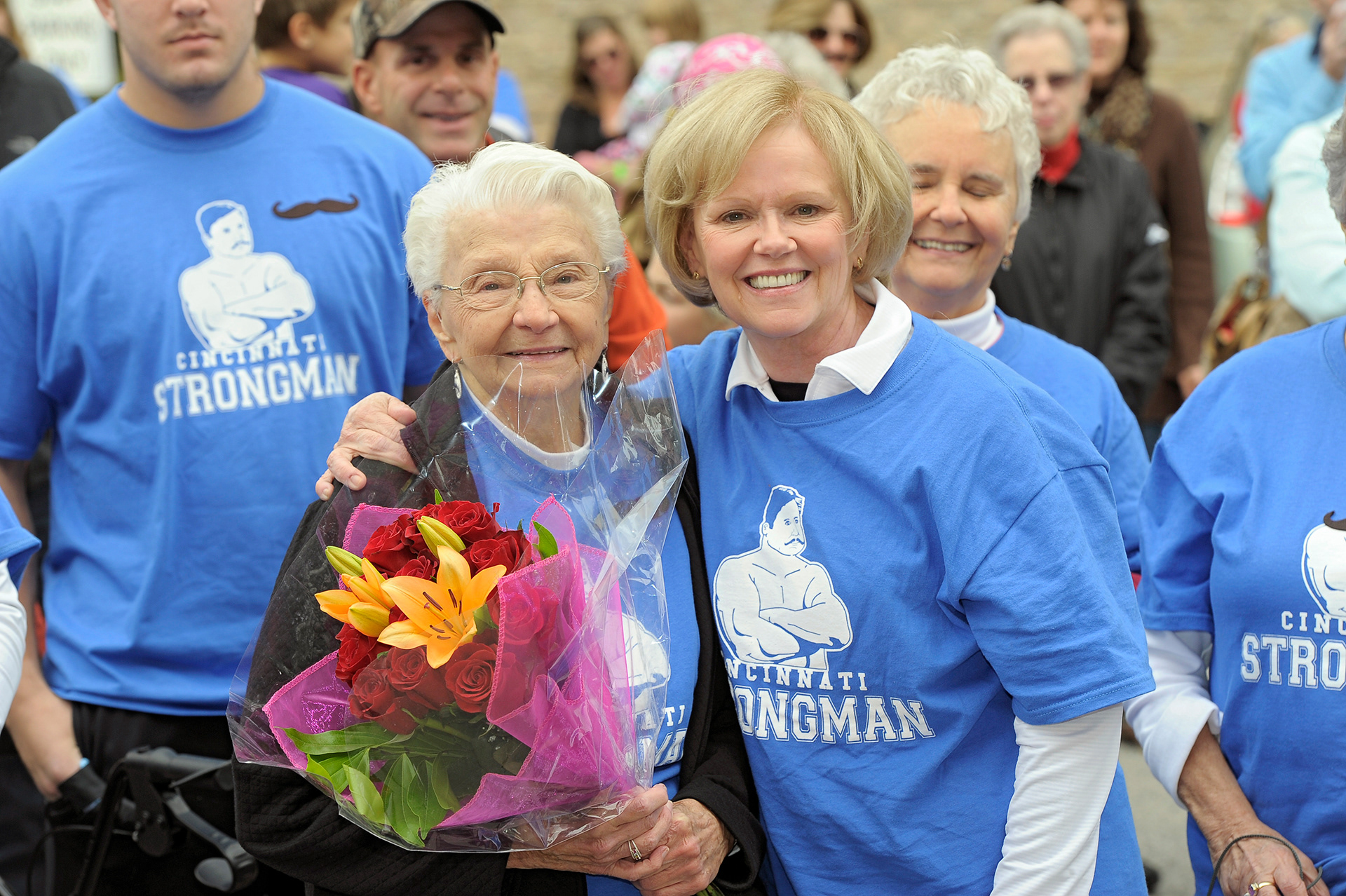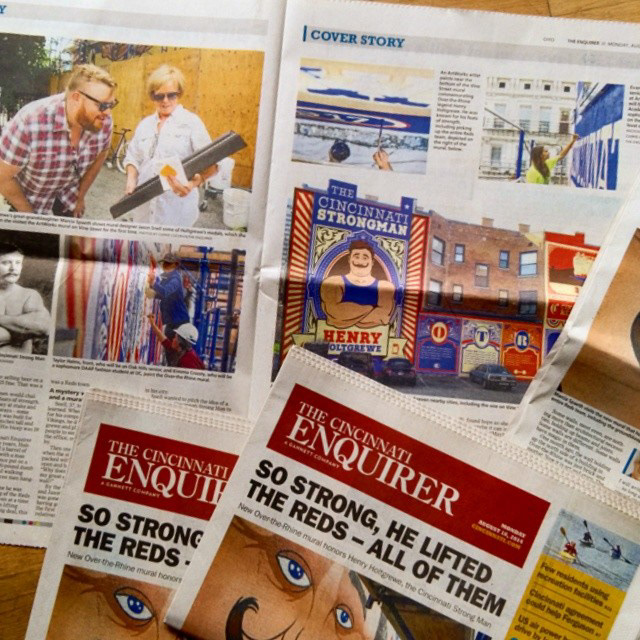 Some walls, most even, are nothing more than architectural necessities, holding up beams and joists. Some walls are different. Some walls have magic in them.
One month ago, the wall holding up the north side of a building in Over-the-Rhine was just brick and mortar. Now it is art and story. The transformation began when Jason Snell, an artist with a thick beard and a curious mind, reached back through Cincinnati history and found Henry Holtgrewe, a man with a heavy mustache and a barrel chest.
Holtgrewe may have been the strongest man on earth. He was so strong that on Aug. 29, 1896, a Saturday, he picked up the Cincinnati Reds. It was all 20 players, plus the groundskeeper, a stack of heavy barbells and the team mascot, a monkey named Jocko.
The weights, ballplayers, groundskeeper and Jocko totaled 4,500 pounds. They all got on an elevated platform, and Holtgrewe stood underneath it, steadied himself and lifted them off the ground.
It is a story only slightly more impressive than how a mural got made on the wall at 1215 Vine St. The mural was the result of persistence, serendipity, an art program and a mysterious young woman who walked past Jason Snell's office one night and said: "Why does somebody have a photo of my great-great grandfather?"
A man from another time perfectly relevant today.
Over the past 18 years, ArtWorks has worked to turn the city into a piece of art. The organization pays artists and apprentices and since 1996 is responsible for 75 murals in 36 Cincinnati neighborhoods and seven nearby cities.
Tamara Harkavy founded ArtWorks in 1996 and says murals do more than just make a wall prettier. A mural can create connections. A mural can show a city's past and its future. Particularly this mural because when Snell looked through time and found Holtgrewe, who lived more than 100 years ago, he found a man who would have been comfortable in Over-the-Rhine today.
"The essence of the 1870s, '80s, '90s is completely relevant today," Harkavy said. "Holtgrewe had that pride of place, he was an entrepreneur, he completely was what we are now. He was a maker."
Harkavy loves all of her projects, but this one might be particularly special to her. "There is so much magic and serendipity in this project."
Snell is a graphic designer and a good one. He also does branding and music and animation, all of which made him attractive to companies in New York, San Francisco, Seattle and Austin, Texas.
Six years ago, he was getting serious about moving when he met a girl, a local girl. She was smart and talented, and she liked him back. Suddenly he was staying, which led him to opening a storefront for his design business on Vine Street in Over-the-Rhine. He thought he should learn more about the neighborhood.
"I wanted to know everything, every story, all the history," Snell said. "You realize how beautiful the place where you live really is. These stories keep unfolding and unfolding."
An immigrant to Cincinnati, and maybe the strongest man
One of the names he came across early was Henry Holtgrewe. Holtgrewe was born in 1862 in Hanover, Germany, and came to Cincinnati when he was 22 years old and moved in with a cousin in the West End. He started working in saloons just as soon as he arrived, moving from one to the next until he had his own place on Vine Street.
Holtgrewe became known immediately for his ability to pick up heavy things. And this was at a time when people
really cared about things like that.
He was in the newspaper, including this one, repeatedly, referred to as the Cincinnati Strong Man, the West End Hercules and eventually as the World's Strongest Man. He was also in the paper in 1915 for selling beer on a Sunday and got a $25 fine. That was a no-no.
At the time, big men would challenge each other to feats of strength. There would be money at stake and usually – all right, always – some wagering. Holtgrewe was built for this. He was 5 foot 8 inches tall and weighed 270 pounds. His bicep was 19 inches around.
In 1903, The Cincinnati Enquirer reported that, over the years, Holtgrewe had once "lifted a barrel of water with one finger with a man seated on it." He also once put on a show by putting a "3,000-pound dumb bell on his shoulders and walking across the stage with three men hanging to it."
But the big one, the one he was known for, was the lifting of the Reds and Jocko. Apparently even at a time when watching burly men lifting really heavy stuff was a big deal, this was a Reds town.
Spaeth wrote back within 15 minutes and said: "Did you know that Henry Holtgrewe is my great-grandfather?" Then she asked how much she could give.
And this, Harkavy said, is the exact promise of a mural. It can bring people together, it can bridge generations, it can find connections that nobody knew existed.
A vaudeville graphic novel for the Cincinnati Strong Man
The money found, the art began. Snell's vision is not a typical mural. He calls it a "vaudeville graphic novel." And it kind of is. The mural tells the story of the Cincinnati Strong Man on more than 2,000 square feet of brick.
The scaffolding went up, and the painting began with the help of nine youth apprentices. Taylor Helms,16, sat one morning on the scaffolding, painting and thinking about the past and the present and the future. And Henry Holtgrewe.
"You wish he could see it," Helms said. "It's weird, but maybe we are keeping him alive by doing this. I hope so. Wouldn't that be great."
To Helms' right, Kimmia Crossty, 20, found hope as she brushed. "I think maybe it can inspire people," Crossty said. "Maybe they can be a wall if they do great things."
Earlier this month, Spaeth pulled into the parking lot next to the mural and could not believe her eyes. "It was so exciting, it was very emotional," Spaeth said, beaming. "I thought I was going to cry. It's so big."
She thanked Snell and hugged him and showed him some of the medals her great-grandfather had earned as a strong man. She told him about Holtgrewe's children: Frederick, Hilda, Hellen and Marie. She said there were many grandchildren and great-grandchildren and great-great-grandchildren.
Spaeth talked about people who were related to each other, and the things they did and the people they knew. She said that she had worked very closely with Harkavy's father. The connections kept coming and Snell fell silent listening to every word.
T
hen Spaeth went up the scaffolding and saw the images and the words and the stories she heard kept rushing back. Henry Holtgrewe was, she said, described by all as a sweet, sweet man. She stopped and thanked each of the painters working with their paint brushes and walked up the steps to come face to face with the man she had never known. She gave him a small kiss and thanked everybody once again.
"All these connections, the way this whole thing happened, it's amazing," Spaeth said. "It's like some magic happened. It's so Cincinnati." ■